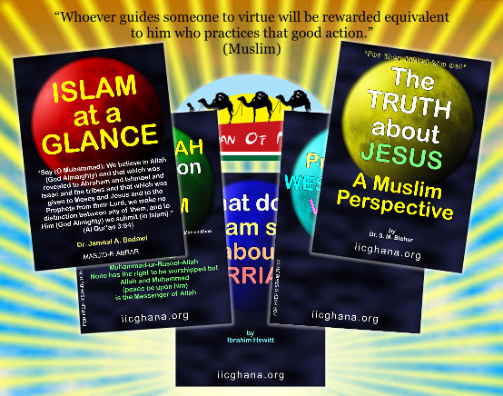 There is much ignorance of Islam yet a thirst for the truth in West Africa. We have gathered some very good articles and reprinted them especially for this appeal. Caravan of Mercy UK has created a Dawah pack, consisting of booklets, folded leaflets and an English translation of the Quran. These packs will be distributed by the Islamic Information Centre (Ghana) an arm of Caravan of Mercy Ghana.
Each pack will cost approximately £5 and we are appealing to the public to donate Lillah to this cause.
It is reported that the Prophet Peace Be Upon Him Said:
"By Allah, if Allah were to guide one man through you it would be better for you than the best type of camels."
(Bukhari, Muslim)
• Donate online using your credit/ debit card.
• Phone 0116 276 3344 or phone 07752 247 994 to make a credit or debit card payment.
• Visit or send a cheque to our office (see below)
Booklet titles:
Islam a brief guide
The big questions
The Sahabah: the unique Quranic generation
What was the sign of Jonah
Knowledge of the unseen
Siyam (fasting)
Moses, Jesus, Muhammad (pbuh)
Shahada: Confession of a Muslim
Ash-Shirk and Al-Kufr
Signs of the last day
What the bible says about Muhammad (pbuh)
The Quran and modern science
Some prominent westerner
The sword of Islam
What the bible says about Muhammad
Miracles of the Quran
Selected Duas
Salaah, the Muslim prayer
The concept of God in major religions
Islam at a glance
Answers to non-Muslims' common questions about islam
Muhammad, the Prophet of Islam
Muhammad, A to Z
The life of the prophet (pbuh)
A Muslim portrayal of Jesus
What does Islam say about marriage
Position of women in Islam
The tradition of Gabriel
Leaflet titles:
The Mercy of Allah
Who was Muhammad
Facts about Usury
The Islamic view on the prohibition of alcohol
The Qurans scientific accuracy (Revert scientists)
Adultery and fornication
Muslim at the time of death
The halal slaughter controversy
Al Quran at a glance
Malcolm X
You must know this man
Life after death
Hijab, reflections by Muslim women
The last sermon of the Prophet Muhammad (pbuh)
Who was Jesus
Why don't you pray?