By Molana Ebrahim Patel (Chairman of COM) June 2021
السلام عليكم ورحمة الله
وبركته
Saturday 12th. Visited Masjid Issa project which also involved the instillation of a water borehole. Thereafter we travelled to the Caldwell water project. From there we carried on to Bentol town for the Masjid Arif assessment. Bentol town is a journey of approximately 40 km. Roads are very bad. Returned to Markaz at 8 pm.
Sunday 13th. Visited the Masjid Umar project. Discussed the extension of toilets and Ghusl room with contactor.
Water Pump completed but water stand, water tank and  submersible pump needs installation on all 3 water projects. Molana Abdulla, myself and Yusuf the building contractor discussed how to build the stand . If successful, we will build same stands for all projects.
Monday 14th. Started Self Sustaining Projects (business start-ups) form assessment with brother Arif. Started 9:00am till 3.30 pm . Interviewed each potential beneficiary. Returned to Markaz.
Tuesday 15th. Started SSP form assessment with brother Arif. Started 9:00 am till 3.30 pm . Interviewed each potential beneficiary. Completed approximately 140 in 2 days. Remainder called on Wednesday. Returned to Markaz .
3.00pm left for Sakkay town for mosque assessment.
60 km from Markaz reached at 6pm. Village before Sakkay town Niyaang, Qadnias building masjid. Spoke to villages . Qadianis working from 1996. Spoke to villages that Qadianis working in lots of villages in that area. Inshallah will be sending jamaat in that area
Wednesday 16th. 9.am start. Remainder assessment for SSP forms. Done by Zohar.
After Zohar went with Molana Adam to Umar mosque project and wholesalers for water borehole materials.
Thursday 17th. Day stats at 9 am. Br Arif on clothes sorting. I sat in Hifz class with the kids for assessment.
Day finished at 8.30pm. Break for Salaat , food and bathroom. Managed to assess 20 kids. Phoned South Africa and Zambia to see if they will accept any kids in their Madressa. No reply as yet. Looking at ways to start classes for Islamic Maktab for girls. There is hardly any education for girls.
Friday 18th. Day started at 9:00am. Brother Arif did clothing sorting out with 10 lads. I sat with the SSP forms. From 170 forms managed to go over 90 forms which were approved for SSP. Day finished at 11.30 pm. Salaat, food and bathroom breaks only.
Saturday 19th. Started loading pick up truck with clothes for distribution in Sakkay Town at 7:00am. Left Markaz at 9:00am. Normal road blocks and traffic it took us approximately 2 hours to get out of the city. Stopped at wholesaler to buy rice for distribution.
Reached Sakkay Town which is approximately 60 km from Markaz at 12.30pm. Read Zohar Salaat. Met town community leaders. Made Mashwera with brothers how to carry out distribution. Off loaded truck in village square and started distribution after Molana Abdulla handed out tokens. One token given to one family head for whole family. Distribution done among 6 villages. Approximately 1000 people men, ladies and children benefited from this distribution. Mixed clothing given to each family.
Distribution went very well. Finished distribution at 5:00pm. Read Asr Salaaat and thereafter distributed the rice bags. After that took measurements of land for construction of mosque. Brother Arif will get his cousin to sponsor the mosque. Did the foundation digging.
Left Sakkay town at 6.30pm. Reached Markaz at 10pm. Traffic was madness. Roads are appalling. Worst roads I have ever experienced.
Sunday 20th. Started SSP (business start-up project) at 8.30am. Completed at 1.30pm. Alhamdulillah project went very well. Ladies were very happy and lots of smiles. Many disappointed because they did not receive anything. Inshallah after assessment of balance forms will do another programme.
Jazakallah khair,
Molana Ebrahim
Caravan of Mercy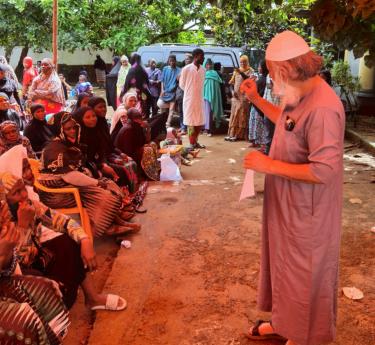 Molana adresses widows at the SSP business start up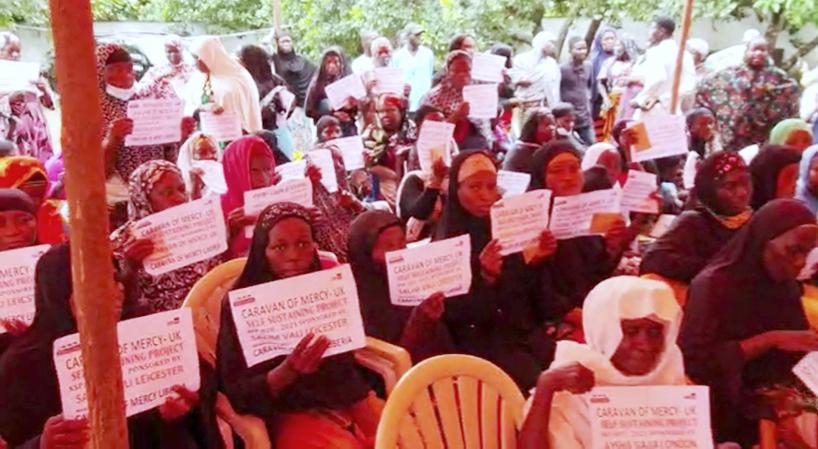 Widows at the SSP business start up